8 Ways to Choose Your Wedding Date

by
Jennifer Cram - Brisbane Marriage Celebrant
© (12/01/2021)
Categories:
| Wedding Planning |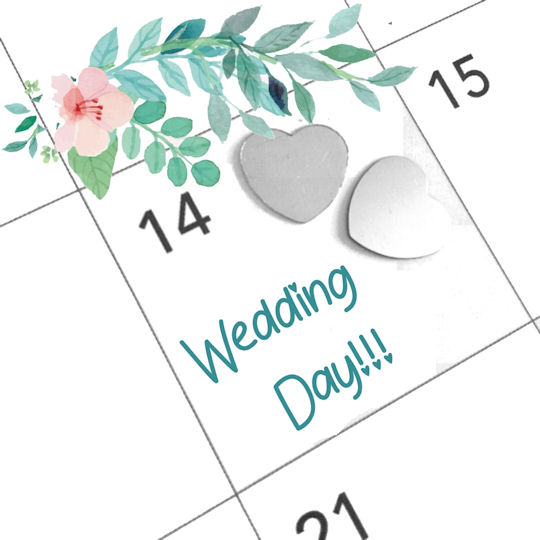 About the first thing anyone is going to say to you when you announce your engagement is
When's the big day?
At that stage the only possible comeback is usually
We're working on it.
Pro-Tip:
That is also a very good all-purpose comeback to any probing questions about your wedding plans, particularly if they come from people who are likely to be rather forceful about you doing your wedding their way!
While some people have no problem picking a date - usually an anniversary that just happily falls on the weekend - for most couples choosing a date that everyone will be happy with turns into a nightmarish juggling act. On top of that, 2020 sure gave us all a heads-up about all the pitfalls of getting your hearts set on a particular date for your wedding. But, other than throwing everyone headfirst into a game of "pick the date least likely to be cancelled/postponed by COVID-19, it didn't serve up an easy-as guide to choosing a date. So here it is.
It is all about priorities
Actually, nailing down your priorities is the very first step in wedding planning. What is most important to you is what you should prioritise, allowing other aspects of your wedding fall into place behind. And that includes the date. If you've decided to get married ASAP, have your heart set on a particular venue, or want to book the celebrant or photographer of your dreams, you might have to be flexible about dates, so having some alternative dates up your sleeve would be advisable. If your budget is tight, being flexible about your date may result in a saving as many venues and service providers cut their fees for less popular dates and days of the week.

If you are planning further ahead, or your top priorities are not so date-dependent, or COVID-19 scuppered your first pick, there are a number of great ways to approach choosing a date,


A personally significant date

hter



Personally significant dates include;
One of your anniversaries as a couple - the day you met, the day you became a couple, the day you got engaged, for example.

A birthday - one of you, or a special person, for example a grandparent
Parents' wedding anniversary.
An auspicious date


In man

In many cultures, choosing an auspicious or lucky date for a wedding is top priority. While we, in Australia, tend to use other criteria to choose the date, more and more couples are thinking about lucky dates, which, of course, means you might have added competition when trying to book your venue or service providers.
On the other hand, deliberately choosing a date that others might consider unlucky, like Friday 13th, might give you a wider choice of venues and service providers who are available.
A memorable date


In man

The obvious memorable dates are widely celebrated days, Valentine's Day is the obvious one, but Christmas Eve, Christmas Day, New Year's Eve, New Year's Day, or other annual celebrations such as Halloween, Mother's Day and Father's Day may be a good pick. For Star Wars geeks, May 4th is a popular pick. And if you're Irish, St Patrick's Day, 17 March, is not only memorable, it is considered to be the luckiest day of the year to be married.
And then there are the numerically memorable dates. They change every year, but an example in 2021 are the 21st of any month and 4-3-21 (the fourth of March) , in 2022 the 22nd of any month together with 2-2-22, (the second of February) and in 2023 the 23 of any month together with 3-2-23 (the third of February).
A date chosen for its numerological personality

Numerology is an ancient practice that involves reducing numbers to a single digit by adding them together. Each number is deemed to have a personality. For weddings, these are:
The number 1 - Action, Independence, New beginnings
The number 2 - Balance, Harmony, Peace
The number 3 - Achievement, Laughter, Socialising
The number 4 - Commitment, Planning, Practicality
The number 5 - Adventure, Celebration, Exploration
The number 6 - Family, Heart, Love
The number 7 - Creativity, Ideas, Spirituality
The number 8 - Infinity, Prosperity, Results
The number 9 - Announcements, Growth, Success

The season and the weather

In some parts of Australia there is a definite wedding season (and off-season), largely based around the seasons of the year. Summer can be too wet in the north. Winter can be too cold in the south. Personal preference can rule out the very hot weather in December through February, and so on.
What's in season

If you've got your heart set on particular flowers, for example, check when locally grown blooms are available.
Wedding party and/or guest availability

If guests have to travel to your wedding, or have booked travel plans or work obligations, there may be certain dates or parts of the year that won't work for them. Before deciding on a date make sure you have a clear idea of any dates on which people who mean a lot to you won't be able to be with you.
Your own work obligations

Nuff said on that one. You know what those are, what they might be, and what you need to do to make sure you can be present at your own wedding!
Pro-Tip:
Whichever date you get married on will be a good day and will have no influence whatsover on the success or happiness of your marriage!